'BSP will fight the polls on its own'

Kanshi Ram, who single-handedly rewrote Dalit politics in the Hindi heartland and made the Bahujan Samaj Party the power-pusher that it is today, has ruled out any electoral alliance for the forthcoming Assembly elections in Uttar Pradesh. The BSP supremo says the party is in a position to form the government on its own.
"We know if we join hands with Mulayam Singh Yadav again we can pack the BJP out of power in U.P. for ever, but we cannot do it...Mayawati comes in the way" he said in an interview to Purnima S. Tripathi, given at Parliament House in New Delhi. Excerpts:
K. RAMESH BABU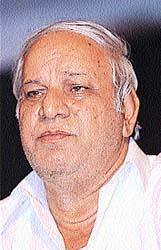 Both the Congress(I) and the BJP are talking of entering into an electoral alliance with the BSP. Do you plan any alliance for the U.P. Assembly elections?
The question does not arise. We are strong enough to form the government on our own. In every Assembly election since 1993, when we fought along with Mulayam Singh Yadav's Samajwadi Party, our strength has been increasing. The Bahujan Samaj Party will fight the elections on its own, no more alliances now.
In 1993, the BSP-S.P. combine was successful in defeating the BJP and forming the government. Why cannot the experiment be repeated?
We are aware that if we join hands with the S.P. once again, we will be able to pack the BJP out of power from U.P. for ever. But we cannot do it.
Why? What comes in the way?
Mayawati. She comes in the way of forging an alliance with the Samajwadi Party. I have tried explaining things to her, but you cannot go beyond a certain point if the other person is too adamant. I do not blame her either. After what Mulayam Singh did to her, she is right too. Besides, I have entrusted Uttar Pradesh with Mayawati and she is free to decide. I would not like to interfere unnecessarily in Uttar Pradesh because I want to concentrate in those States that are going to the polls in 2002-2003. Mayawati is handling U.P. well and I will continue to give her a free hand there. There is another thing, Mulayam Singh cannot be trusted. He has broken those parties that had supported him in the past. He could have done the same to us had he got a chance.
But the polarisation of voters in U.P. on the basis of caste is such that no single party seems to be in a position to obtain a majority. What will be your strategy?
Alliances in a post-poll scenario can always be considered. We are open for post-poll alliances.
Which are the parties you have in mind?
Any party with which we are in a position to form and lead the government. We have tried this before and have succeeded too. (The reference here is to the BJP-BSP government by rotation after the 1996 elections when Mayawati was Chief Minister for the first six months and Kalyan Singh (then in the BJP) succeeded her. Mayawati, however, withdrew support midway but the government survived as the BJP succeeded in splitting the Congress and the BSP.)
Will you join hands again with the BJP, especially after the previous experience?
We will join hands with anyone who is willing to support our government and Mayawati's candidature as Chief Minister.
What is your long-term strategy?
To win 272 seats in the Lok Sabha, at least 65 of them from U.P. It is possible because we are getting votes from every section of society now. People from all castes are approaching us for the ticket. We are no longer viewed as a Dalit party.
Do you have any intention of joining the People's Front?
No. I will have nothing to do with this Front. Besides, I do not know why, nobody from the Front has approached me.