Mayawati talks of sarvajan samaj
TIMES NEWS NETWORK [ FRIDAY, MAY 03, 2002 12:30:48 AM ]
LUCKNOW: Chief minister-designate Mayawati on Thursday told her party MLAs that her government was destined to last the full five-year term. She asked her partymen to take care of the interests of not only the Dalits, minorities and backwards, but also work for a sarvjan samaj.
Sources in the BSP-BJP combine said that the chief minister-designate was careful enough that no such thing should be done which conveyed a wrong message to the people. She also explained to them the political situation which led to the formation of the BSP-BJP combine in the state.
Meanwhile, Mayawati-led BSP-BJP coalition will be sworn in on Friday at the La Martiniere ground with six ministers each from the two major partners taking oath in the first instalment. The swearing-in ceremony will be held at 3:00 pm.
Sources from the BSP-BJP combine told this correspondent that two ministers would be taken from the allies and one from the lot of independent MLAs, supporting the coalition. The number of ministers could go up by one either in favour of the BJP or BSP.
Among those who are likely to take oath from the BJP quota are Lalji Tandon, Om Prakash Singh, Ram Prakash Tripathi, Harish Chandra Srivastava 'Harish' or Mahendra Aridaman Singh. Similarly, Swami Prasad Maurya, Nasimuddin Siddiqui, Ram Veer Upadhya and Indrajeet Saroj are being mentioned as ministers from the BSP quota. Rastraiya Lok Dal leader Kokab Hamid and Raja Ram Pandey may be inducted from the quota of their respective parties. Hamid is the leader of the 14-member RLD legislature party and Pandey is being rewarded for leaving former coal minister Ram Vilas Paswan. One independent may be sworn in as a minister of state, said the sources.
Mayawati justifies alliance with BJP
PTI [ FRIDAY, MAY 03, 2002 7:26:35 PM ]
LUCKNOW: Uttar Pradesh Chief Minister Mayawati on Friday justified her dicision to ally with the BJP and its allies for forming the government in the state.
She said the decision was taken to avoid foisting another election on the state.
Addressing her maiden press conference just after being sworn in as the chief minister, Mayawati said that keeping in view the state's dismal economic situation, it should not have been forced to face another round of elections.
Stating that BSP's alliance with BJP was being dubbed by Samajwadi Party and Congress as her siding with communal forces in order to alienate Muslims from her party's fold, she assured Muslims in the state that there would be no laxity in providing security to their lives, property and their places of worship.
She said all the 14 Muslim MLAs of BSP and the workers were firmly with the party and were least affected by the "misinformation campaign" by the SP and the Congress.
Mayawati made a startling disclosure that BSP MLAs had insisted on SP extending unconditional support for a BSP government in UP which was rejectd by SP.
"This proves how much secular Samajwadi Party is," she said.
Listing the priorities of her government, Mayawati said law and order and development of the state would be taken on top priority. Special emphasis would be given on ameliorating the lot of deprived sections and religious minorities, she said.
Asked about the expansion of her ministry, she said it would be done soon.
PTI [ FRIDAY, MAY 03, 2002 3:52:38 PM ]
LUCKNOW: School-teacher-turned politician Mayawati, who became the chief minister of Uttar Pradesh for the third time in seven years on Friday, has worked assiduously to shed the image of being just a Dalit leader after making inroads into the upper caste bastion in the recent elections.
Having been the chief minister for not more than six months before, forty-seven year old Mayawati has been pitchforked to head the most populous and politically sensitive state as she expanded her voter base to help her Bahujan Samaj Party (BSP) gain wider acceptability.
Often dubbed enigmatic, Mayawati, who shares her birthday (January 15) with American civil rights leader Martin Luther King Jr, had once aspired to join the civil services after her college but she was drawn towards BSP supremo Kanshi Ram who founded the party on April 14, 1984.
Affectionately called "Behanji", Mayawati's initial brush with politics was rough when she lost two bye-elections to the Lok Sabha from Bijnore and Haridwar in 1985 and 1987.
But, it was third time lucky for her when she made her Parliamentary debut winning from Bijnore in the 1989 general elections. She has never looked back since then.
The meteoric rise of Mayawati, who is a spinster, culminated in her becoming the chief minister for the first time on June 3, 1995 when the BSP tasted power in alliance with the BJP after she dumped Samajwadi leader Mulayam Singh Yadav.
Mayawati was sworn-in along with 19 ministers belonging to the BJP, the BSP and the Rashtriya Lok Dal (RLD) by Governor Vishnu Kant Shastri at an impressive function at the sprawling La Martinier college grounds here.
Of the 19 ministers sworn-in, 10 are from the BSP, seven from the BJP and two from the RLD.
Among those who attended the ceremony were Union Ministers Murli Manohar Joshi and Ajit Singh, BSP chief Kanshi Ram and former Chief Minister Rajnath Singh.
The entire ground was packed to capactiy by BSP and BJP supporters.
Mayawati sworn in Uttar Pradesh Chief Minister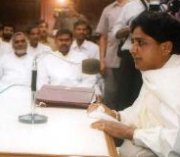 BSP leader Mayawati addressing her legislators at the BSP headquarters in Lucknow on Thursday. (PTI)
Lucknow,Friday, May 03, 2002: BSP leader Mayawati was today sworn in as the Chief Minister of Uttar Pradesh for the third time in seven years at the head of a 23-member coalition ministry with BJP and RLD shortly after she said some of the decisions taken by previous BJP-led government might be reviewed because of the state's poor economic health.
Mayawati, the 47-year-old teacher-turned-politician, was administered oath of office and secrecy along with 19 cabinet ministers and four ministers of state drawn from BSP, BJP and Rashtriya Lok Dal by Uttar Pradesh Governor Vishnu Kant Shastri at a function boycotted by the mainstream opposition, including SP and Congress.
Of the cabinet ministers, nine belong to BSP, eight to BJP and two to RLD. The four ministers of state are two each from BJP and BSP.
In all, there are four Muslims in Mayawati ministry which also has two women besides the Chief Minister. The two women representatives are Anuradha Chaudhary of RLD who has been given cabinet rank and Sheema Rizvi of BJP, a minister of state.
Among BJP veterans in the state who found ministerial berths are Lalji Tandon, former party state unit chief Om Prakash Singh and Hukum Singh.
Addressing a press conference shortly after her swearing in, Mayawati, asked about some decisions taken during BJP rule in the state, said they would be looked into keeping in view economic compulsions and some changes might be made.
(PTI)