UN body urged to reject VHP plea
HT Correspondent
(New Delhi, June 4)
The United Nations Economic and Social Council has been urged to reject an application for consultative status by the Vishwa Hindu Parishad.
In a briefing note to the UN committee on NGOs recently, the South Asia Human Rights Documentation Centre said the VHP's activities violated the UN Charter.
The note claimed the VHP "espoused and encouraged" communal and anti- foreign sentiments and had been implicated in violence against minority groups in India. Such activities ran counter to the UN's stated aim of promoting "universal respect" for human rights and fundamental freedoms.
The VHP applied for general consultative status with the council in 1998. The decision on the plea has been deferred on three occasions. According to the note, the VHP's application is again up for consideration at the UN committee on NGO's regular session in May 2002.
The noted said the VHP's social welfare work was designed to promote the VHP's "exclusivist and intolerant form of Hinduism". If the VHP gets consultative status on the committee it would be able to make submissions that would be "published and circulated as UN documents" and influence the agenda of the UN council, warns the note
MPDO insults dalit widow at grama sabha
Deccan Chronicle,
5th June 2002
Kuravi (Warangal), June 4: Savithri, a Dalit widow, was moved to tears in Janmabhoomi grama sabha at Chintapally village of the mandal on Tuesday when she was insulted by Kuravi MPDO Ramesh.
According to sources, Savithri applied for aid to her three-year old daughter under Balika Samrakshna padhakam. But Ramesh who was nodal officer, in the grama sabha made it clear that family planning operation was compulsory for providing aid under the scheme.
But the villagers argued that the scheme be applied to Savithri as there was no scope for her to bear child as her husband died two years ago. But the MPDO retorted that what was the guarantee that Savithri would not bear children even though her husband died.
Feeling slighted by the remarks of the MPDO, Savithri left the grama sabha with tears rolling down her cheeks. Enraged by the comments of the MPDO, the villagers picked up an argument with him.
Mandal Revenue Officer Seshagiri Rao pacified the irate villagers and prevented the situation from turning ugly. Later, the authorities decided to provide aid to the daughter of Savithi under the Balika Samrakshna padhakam.
Sarpanch J Ranganna presided over the grama sabha, which was also attended by MPTC member Chandulal, mandal parishad president Shantamma, medical officer R Madhava Rao and others.
http://timesofindia.indiatimes.com/articleshow.asp?art_id=11798975
TIMES NEWS NETWORK [ SUNDAY, JUNE 02, 2002 11:46:03 PM ]
LUCKNOW: In a move which marks a major policy difference with her ally, the BJP, UP chief minister Mayawati on Saturday reversed the decision of her predecessor, Rajnath Singh, on the bifurcation of the reservation quota for the Most Dalits and Most Backward Classes and nullified all amendments made to this effect.
The original Act of 1994 was put into effect again, under which flat reservation quotas of 21 per cent for the Scheduled Castes, 27 per cent for the Other Backward Classes (OBCs) and two per cent for the Scheduled Tribes was admissible.
A decision to this effect was taken at a cabinet meeting presided over by the chief minister. By another decision, the government has decided to provide 20 per cent reservation to girl students in the state-level joint entrance examinations for engineering and other professional courses.
During his tenure, Singh had set up the Social Justice Committee (SJC) with great fanfare and implemented its report to ensure reservations within the existing quota for the most Dalits and the most backwards. The 1994 Act for this purpose was amended in the light of these recommendations. But this could not be implemented, as its operation was stayed following a writ petition which is pending for final hearing before the Supreme Court.
As such, the recruitments to various posts could not be done and in some cases, results had to to be withheld. This dealt a blow to hundreds of candidates who had borne the cost of examinations with much difficulty. The worst affected were those who had qualified for about 520 posts of UP's Provincial Civil Services.
Over 2,000 Dalits embrace Buddhism
http://timesofindia.indiatimes.com/articleshow.asp?art_id=12510084
TIMES NEWS NETWORK [ MONDAY, JUNE 10, 2002 2:25:29 AM ]
KURUKSHETRA: Over 2,000 Dalits embraced Buddhism at a function organised by the All-India Confederation of Scheduled Castes/Scheduled Tribes here on Sunday and took an oath to fight for their rights.
Addressing the rally, Haryana state president of the confederation Karamvir Singh said the Supreme Court had taken away the right of reservation in promotions for the employees belonging to the reserved category in a judgment under the Ajit Singh Janjua versus Punjab government case.
This judgment, he said, had limited resevation for Dalit employees only upto class III category as states like Haryana had no provision for reservation at the time of promotion to class I and class II categories.
He said their leader Ram Raj, now known as Udit Raj, had set up a 'parisangh of Buddhism', a gathering of various dalit bodies, to fight for their rights and started an agitation in which lakhs of dalits staged a demonstration in front of Parliament and the Supreme Court on November 4, last year.
HC scraps SC-ST quotas in Mumbai's minority colleges
http://www.indian-express.com/full_story.php?content_id=4001
Admissions to 50 pc seats in colleges affiliated to Mumbai varsity should be based on merit, said the Bombay High Court
Express News Service
Mumbai, June 7: The Bombay High Court has ruled that reservations for Scheduled Castes (SC), Scheduled Tribes (ST) and Other Backward Castes (OBC) cannot be applied for admissions to the remaining 50 per cent seats in colleges run by minority institutions affiliated to Mumbai University.
A division bench comprising Justice S. Radhakrishnan and Justice D.B. Bhosale was hearing a civil application moved in a pending petition challenging a clause in the university's May 2002 circular yesterday. The circular said, while granting admissions to students in the remaining 50 per cent open category, minority colleges shall follow the government policy of reservations for SC/ST/OBCs etc.
A similar circular was issued last year, following which St Xavier's College and the Maharashtra Association of Minority Educational Institutions filed a writ petition challenging the circular. However, by the time the petition came up for hearing, the admissions had been completed, in accordance with the circular. The Nagpur bench of the court in 2001 ruled out reservations in the remaining 50 per cent seats. But in an order on May 20, 2002, the Directorate of Higher and Technical Education said reservations should continue.
The petitioners conceded that they were not against a reservation of 3 per cent of the remaining 50 per cent seats for the blind, physically handicapped, sportsmen etc.
The bench, in its interim order, said that in view of the Supreme Court's judgement in the St Stephen's College case and the clarificatory judgement given by a full bench of the Bombay High Court, reservations cannot be applied to the remaining 50-per cent seats in colleges of minority institutions. The bench said these admissions should be expressly based on merit.
In the first 50 per-cent seats, admissions will be given by the concerned college on its own discretion from among eligible applicants belonging to that particular minority group, strictly on merit.
After a reservation of 3 per cent for handicapped etc, there will be no reservation applicable for admissions to the remaining 47 per cent of seats.
The bench said candidates of the reserved categories can compete on merit for these seats. Merit is to be determined on the basis of marks procured in the Common Entrance Tests (CET) conducted by the university or state.
Another application was filed by the Hyderabad (Sind) Collegiate Board which runs more than a dozen colleges in and around Mumbai. Apart from challenging this clause, it also challenged another clause which said there will be no separate quota for in-house candidates.
The bench did not grant any stay to this clause, but said the minority institutions can admit in-house students but such students should be accommodated within the 50 per cent exclusive quota available for such managements.
Toronto Celebrates Babasaheb's 111Th Birth Anniversary!
By: Sutey Prakash Ahir-Vancouver
The International Bahujan Organization of Toronto along with other important leaders of Dalits community celebrated Dr. Babasaheb Ambedkar's 111th birth anniversary on May 12, 2002 at North Peel Secondary School in Brampton, Toronto. Mr. Harbhajan Singh Lakha, former Member of Parliament, BSP was the Chief Guest while Ms. Kamlesh Ahir of Vancouver was among the guests of honor on the occasion. The president of IBO Mr. G.D. Gaddu presided over this color full event, which was attended by several hundred people.
Mr. Lakha emphasized on the unity of Dalits living abroad and asked them to work for the socio-economic and political developments of downtrodden that they have left behind. He also emphasized on the debacle of Dalit movement in India and discussed how can it be more effective and successful.
Ms. Kamlesh Ahir started her powerful speech with a very famous but emotional song which was written by a Punjabi Dalit poet at the time when Babasaheb visited Jallandhar City of Punjab-"Kaun Aya Savere-Savere, Bara Shor Painda Gariban Ke Dere". The attendees were very emotional and touched by the feelings. She exhorted all Dalits to come forward against the brutalities and oppression committed against Dalit women. Ms. Ahir gave an open call to the participating Dalit women to come forward and change the destiny of Dalit generations. She also emphasized and asked Dalit sisters and mothers to pass on the legacy and message of Babasaheb to their children so that they could remember that who are they and what our savior Babasaheb has done for us.
The president of IBO Mr. Gaddu requested all Dalit brothers and sisters to start a new Dalits movement for the unity of Dalit community. He was of the view that unless we have forceful unity in our community, we cannot fight out enemies.
Other distinguished guests who spoke and attended the birth anniversary were Harmesh Sandhi, Anita Gaddu, Jaswinder Singh, Ravi Sahota, Gulshan, Khushi Ram, Keval Nayyar, Gurudev Singh Mattu, Manjit Sunda, Kuldeep Kumar, Sulkhan Singh, Hundal, Kashmir Singh, Sukhdev Bapar, Raj Kumar, Daulat Birdi, Bagha Ram, Mangat Sahota, Jeet Ram, Surjeet Basara, Smt. Nirmala Sunda,  Dilbagh Singh of Virang TV, and others.
Above all, Mr. Kashmir Singh, a prominent Dalit businessman of Toronto honored Mr. Lakha and Ms. Ahir with honorarium.
A long-gone Dalit patriarch's shade shelters some 4,500 kids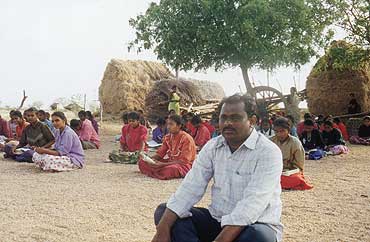 After winding down dusty roads and asking for directions at six different places in Ottapidaram taluk (Tuticorin district, Tamil Nadu), one reaches Sillankulam village. The only landmark here is the school, Muthukkaruppan Adi-Dravidar Higher Secondary School. Even by appearances, it's more than a school, for the village population (1,100) is far less than the number of students here—4,458 to be exact. The residential institution sprawls over some 40 acres and has students from some 19 districts of the state.
"If we don't help them, they will turn out no different from their parents. One weapon we can give them is education," says Saroja.
For the record, this is no hill station boarding school offering alternative education to the rich. Admission is free, so is boarding. Children can walk in any time of the year into this school-cum-home. "The parents are mostly labourers. We have children here who
don't even have a home to go to during summer holidays," says headmaster G. Jeyakodi. Class VII student Ravi is a case in point. " "My parents work as coolies in Madras," he says. "I visit them once in two years." Incidentally, Chennai is some 800 km away.
"Around 300 students have been staying here for close to three years now, without seeing their relations," says Saroja Karuppaswamy, a teacher and whose great-great-grandfather Muthukkaruppan started the school. Nobody remembers the exact year the school was started. "Decades ago" is the common refrain, even among the elders. Muthukkaruppan was a Dalit who through sheer effort accumulated around 500 acres of land during his lifetime in this Naicker-dominated village. "He passionately felt that everyone was entitled to free education. Hence the school," says Jeyakodi. There's no one here now who remembers seeing Muthukkaruppan alive. But his vision has gained strength with time.
A primary school for decades, in 1960 it was upgraded to middle-school status. Registered as a trust in '82, the school has been training children till Class XII since '93. Of the nine hostels the school maintains, seven are supported by the government. Besides these, the school administration also runs two Muthukkaruppan Memorial Hostels, one each for boys and girls. They account for the bulk of the residents—around 3,000 students. "The Adi-Dravidar welfare department allots Rs 150 per month to students under its care," says Jeyakodi. The school trust makes up for the rest.
There's not much in terms of infrastructure too: several classes can be seen happening in the shade of the trees, and the hostels are massive halls with hardly any flooring or a decent roof. Even benches and tables are a luxury, privileged only for students from Class X up. The rest squat in ramshackle rooms. But for the students at Muthukkaruppan School, these are hardly issues.
The school has a reputation for providing education and shelter to students from caste clash-affected villages. "From the Mudukalathoor clashes of '57 to the police violence in Sankaralingapuram in 2001, our school's doors have been open round the year to every student whose education has been affected." The southern districts of the state are communal hotspots witness to intermittent clashes between the Thevars/Naickers and the Dalits. In November last, police had swooped down on Sankaralingapuram, in the same Tuticorin district, arrested 180 Dalits and destroyed the entire colony. It took three months for the residents to return to their broken homes. "Several students, especially those facing Board exams, got admitted to our school," says Jeyakodi.
Despite all this, the school still has an impeccable pass percentage.In the just-announced Class XII results for 2002, it recorded 83 per cent pass. "Unlike private schools, we take in everybody. In fact, 40 per cent of our Class X and Class XII students are on their second or third attempt," says a proud Jeyakodi. But why admit them then? "If we don't, they will turn out no different from their parents. Education is one weapon we can give them," says Saroja. The school's produced three engineers, a doctor, teachers, even police personnel. The Tuticorin collector honoured Jeyakodi last month and the DEO always singles out the school for praise. But a school doesn't run on praise alone. Material and infrastructural help are of the essence. For more information, contact G. Jeyakodi, Muthukkaruppan Adi-Dravidar Higher Secondary School, Sillankulam, Ottapidaram taluk, Tuticorin district, Tamil Nadu-628718. Ph: 0461-262211/ 262255.
—S. Anand
By Siriyavan Anand
Even before the blood of Muslims in Gujarat on the hands of the BJP and its hindutva affiliates could have dried, they have come up with the most politically correct exercise one could have imagined. The BJP-NDA choice of A.P.J. Abdul Kalam seems to have shut every one into silence. This is a masterstroke from the Hindutva brigade. The BJP is flashing a Secular Muslim Missile. And we have to offer our radioactive smiles to this phallic display of aggression. The joke is on us and we are laughing. And predictably, according to sangh parivar strategy, the space for dissent against Kalam's choice will also come from within. Some 'hard-liners' will make noises against the choice. The roles of opposition and that of the establishment will be played out by actors from within the hindutva spectrum. And if Sonia's Congress or Karat's Left so much as murmurs against the choice, they would be seen as opposing a Muslim.
It might seem like one is overreacting, but this is BJP's Pokhran-III; yet another PNE – peaceful nuclear explosion. All parties, and the nation as such, will be expected to fall in line with this clever deployment of a 'secular device'. Just like they did after May 10/13 1998. Even the US/ West will not protest this bomb.
Why Abdul Kalam? He is the ideal Muslim that the RSS-BJP posits. Panchajanya's Tarun Vijay had written in Pioneer in March 2000: "Indianism is… Hindutva. This does not mean that Muslims should convert to Hinduism or Christians should go to temples. What it does mean is that you can be what you like but share the same vision of Dr Abdul Kalam... This vision is the driving force behind the RSS."
And what – besides his famed Vision 2020 – is the vision of Kalam? The average middle-calss Hindu, the leftist, the knicker-wallah, and the editorialist, and of course the average Muslim – each seems happy with the image of a veda-qouting, veena-playing Muslim occupying the Rashtrapati Bhavan. What's more, he is a celibate, a vegetarian, a teetotaller, calls himself a Ram-bhakta. No fez cap. Other than in his name he does not carry any visible marker of Muslim-ness. Attributes that would endear him to the RSS. And he is capable of mouthing lines that K.S.Sudarshan or M.G. Vaidya might have as well said. In an interview in October 1998, Kalam said: "Can you tell me why, in 3000 years of our history, people from all over the world have come and invaded us, captured our land, conquered our minds? From Alexander onwards. The Greeks, the Portuguese, the British, the French, the Dutch, all of them came and looted us, took over what was ours. Yet we have not done this to any other nation. We have not invaded anyone. We have not conquered anyone. We have not grabbed their land, their culture, their history and tried to enforce our way of life on them." Surely, unlike K.R. Narayanan, Kalam would not be a thorn in the flesh for hindutvawadis, and may even dotingly approve of rewriting history.
He is the blue-eyed missile boy who has justified – and even explained – the Hindu-sounding names for Indian defence/ missile programmes – Prithvi, Trishul, Agni etc. And the name that Abdul Kalam assumed during the Pokhran tests – 'Major General Prithviraj'. And among his DRDO colleagues he was known as 'Kalam Iyer'. Three cheers to the ideal Indian Muslim!
And the BJP found it most convenient to have a Muslim head the team that exploded the Hindutva bomb – a party which believes in constructing a jingoistic nationalism that is negatively defined in terms of Pakistan and hatred for Muslims. Kalam's the ideal Muslim who describes himself as '200 per cent Indian' and asked once during a speech in Hyderabad, 'Got 10 minutes for your country?' Now, he is the ideal prez. But what does the missile man know about the Constitution? He will surely depend on the counsel of his benefactors – BJP/RSS lawyers like Jethmalani, Singhvi and Co. for a decision on Art. 356 or on whom to invite to form the government in a fractured post-election scenario.
The BJP would take credit for making the boy who hawked newspapers on the streets of Rameswaram president. After all, was he not the man who showed greater enthusiasm about India conducting the nuclear tests than the BJP itself? His colleagues coined the word 'kalamitous' to capture the outspokenness with which Kalam greeted each new delay in the tests, or in getting the money to develop the missile to deliver nuclear bombs. But as president he might be a 'kalamitous' choice. With intermittent tensions on the border in post-nuclear South Asia, Kalam might have no qualms helping the PMO press the nuclear button. We live in calamitous times. And I would be a fool to ask: Amartya Sen anyone?