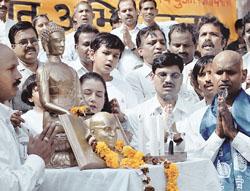 Thousands of Dalits embrace Buddhism
NEW DELHI, NOV. 4. Thousands of Dalits, from all over the country, today embraced Buddhism at the `Diksha ceremony' organised by the All India Confederation of SC/ST Organisations and the Lord Buddha Club.
Amid chanting of hymns in Pali by Bhante Buddha Priya Rahul, thousands of men, women and children renounced Hinduism, and `liberated' themselves from the bondage of the age- old caste system.
Mr. Ramraj, convener of the ceremony, national chairman of the confederation and president of the Lord Buddha Club, embraced Buddhism along with his entire family. He will henceforth be known as Uditraj. Later addressing the gathering, he said, ``this moment is historic as thousands have decided to renounce the centuries-old Brahminical system''. ``We have finally been `liberated' from the clutches of the caste system.''
People turned back
``Although I am overwhelmed by the presence of a large number of Dalits, thousands of my supporters have been detained at various entry points to the city,'' regretted Mr. Uditraj. He said some 50,000 people have been sent back from the railway station and thousands have been stopped at the various State borders.
- UNI, PTI
http://www.hindustantimes.com/nonfram/041101/dlnat14.asp
In mass ceremony, thousands of Dalits convert to Buddhism
Ashok Sharma (AP)
New Delhi, November 4
Nearly 20,000 lower-caste Dalits converted to Buddhism on Sunday in a mass ceremony meant to free them from social discrimination. Organisers said thousands more would-be participants were prevented from participating by police who wanted the ceremony held away from downtown New Delhi for fear of triggering religious unrest.
Busloads of pilgrims from neighboring states were blocked, according to chief organiser Ram Raj, among those converted by having his hair shaved by a monk and taking on a Buddhist name.
Chanting hymns, five Buddhist monks in saffron robes encircled a bronze statue of Buddha as they lighted candles symbolizing enlightenment. The event was organized by the All India Scheduled Castes and Scheduled Tribes Organizations.
"The message of Buddhism is that all human beings are equal," said Harish Khare, a 36-year-old government employee who traveled from Maharashtra to convert.
On Saturday, police asked organisers to move the venue from the sprawling Ram Lila grounds in the heart of the city to a smaller place as a precaution against religious clashes.
Sunday's mass conversion went ahead peacefully, although participants protested the police blockades in outlying states by shouting, "Down with Prime Minister Atal Bihari Vajpayee's government."
http://www.hindustantimes.com/nonfram/041101/dLNAT15.asp Move to convert million dalits to Buddhism proves damp squib PTI New Delhi, November 4
The much-trumpeted programme for mass conversion of Dalits to Buddhism turned out to be a damp squib Sunday as only a few thousand people reached Ambedkar Bhawan in Central Delhi after police denied permission to the organisers to hold the ceremony at Ramlila grounds. All India Confederation of SC/ST Organisations (AICSSO), which had initially announced a programme for conversion of one million Dalits into Bhuddism at Ramlila Grounds, had to shift the ceremony to Ambedkar Bhawan after police denied them permission saying it could lead to a law and order problem.
Around three thousand people had gathered at Ambedkar Bhawan complex amidst utter confusion and it was not clear how many people actually embraced Buddhism as the organisers were not in a position to provide the details.
An office bearer of AICSSO, however, said "several thousand Dalits have embraced Buddhism in the ceremony."
AICSSO chairman Ram Raj criticised the government for denying them permission to organise the ceremony at Ramlila Grounds saying they had planned a peaceful function.
Ram Raj, who pronounced that he has become Udai Raj after the conversion, alleged thousands of people were prevented by the police from entering Delhi along its borders.
Parallel ST/SC group claims Ram Raj 'fraud'
http://www.indian-express.com/ie20011104/nat6.html
SREELATHA MENON
NEW DELHI, NOVEMBER 3: THE controversial Dalit conversion rally may or may not take place tomorrow but its mastermind Ram Raj is in serious trouble. Ram Raj has been saying that he is the chairman of the All India SC/ST confederation. He still does so.
But now another group by the same name claims that it is the real confederation and that Ram Raj has been misusing their name. This group is all set to sue Ram Raj for misusing the name of their group.
According to the spokesperson of the ''real'' confederation Dinesh Kumar, Ram Raj was expelled from the confederation two years ago after he failed to account for funds worth Rs 70,000.
He alleged that Ram Raj had printed posters worth Rs 4.5 lakh with the name of the confederation all over it and had got foreign agencies to fund it. ''We are going to court against him for this,'' said Kumar.
Here is what Ram Raj has to say: ''It was I who expelled everybody. The eight or ten people who call themselves the confederation are all fake. I am the leader of all employees. This confederation they claim to be the real one is the creation of the VHP and Giriraj Kishore.''
But the ''real'' confederation supported by the Valmiki Mahasangh is firm in its resolve to oppose the rally. Madanlal Valmiki of the Mahasangh says he has already written to the Home Ministry asking for an inquiry into Ram Raj' s sources of income.
Ram Raj has been on leave from the Department of Income Tax for three years and has been expelled from the confederation, Valmiki said. "How does he then raise money for such rallies?" he queried.
But Ram Raj claims that he has the allegiance of 40 lakh workers all over the country and if all of them donate a day's salary it would amount to 100 crore rupees.
But this is not all. The critics of the rally which Ram Raj vows to hold in Delhi despite a ban by local authorities, say that he cannot convert 10 lakh Dalits to Buddhism without the help of Buddhist monks or the Dalai Lama.
Besides no conversion can take place without the heads being shaved. Nobody is being tonsured, say Kumar and Valmiki.
'Even Ambedkar became ganje when he was converted,'' says Valmiki. Ram Raj is merely cheating the Dalits, he alleges.
But Ram Raj vows that he would convert around 10 lakh people whatever the opposition and that he has obtained the services of plenty of Buddhist monks for the purpose.
His opponents also point out that the converts have no business to remain SCs after conversion. If they need to do so then why get converted, he asks.
According to the National Commission for SCs/STs, converts into Buddhism, Jainism and Sikhism continue to remain Scheduled Castes. Ram Raj has no answers to all these questions but says that he is planning to sue the confederation too.
'I did not want to miss a conversion ceremony'
BHADRA SINHA
TIMES NEWS NETWORK
EW DELHI: For several foreigners attending the conversion ceremony at Baba Ambedkar Nagar Bhawan on Sunday, it was an Indian cultural treat, a lesson in living religion.
Esther, a 27-year-old student from the US, learnt about the programme on Saturday while shopping on Janpath. "Somebody pressed a leaflet and a visiting card into my hand and asked me to come to the ceremony," she said.
And it was worth the effort. She loved the ceremony. "The puja was interesting. I took a lot of pictures of children and women," she said. Esther was accompanied by her friend John, also a student from the US.
"We have witnessed marches, but no conversion programmes back home since there are none," John said.
Woo Kwan Sun, a Korean, came to attend the ceremony after a volunteer dropped a leaflet at the Delhi University where she is pursuing a course in Buddhist Studies. "I am doing my Masters in the subject. When I came to know about this programme I decided to attend it," she said.
Although Sun did not understand the 22 conversion vows that were chanted, she found the ceremony interesting. "This is fascinating," she said.
UK-based freelance photographer Peter arrived in India on Saturday to specially attend the ceremony. "I have been visiting India regularly and have friends here. They told me about this and I thought it was a great photo opportunity," Peter said.
For Peter, Dalits converting to Buddhism is not unusual. "India is diverse. Its culture is fascinating and constitutes many nations, each one with a unique tradition," Peter said. When he heard about the conversion ceremony, he was eager to have an insight into yet another facet of Indian culture.
"But when I read the papers in the morning I learnt this ceremony could pose a law and order problem," he said. "I am happy that I did not miss it."
For Cathy Hicks, a US national, the ceremony was an eye-opener. "I have seen processions but never attended a conversion programme," she said.
Cathy, in Delhi with her husband, was told about the ceremony by her son who is working with a social organisation in Mumbai. "Since we were already in India we thought why miss a chance to see a religious ceremony like this," Cathy said.
To complete the authentic Indian experience were hawkers selling photographs, religious paraphernalia and trinkets, little symbols of India that will remain with the visitors for some time.