Stripped nude for offering water
By R Revathi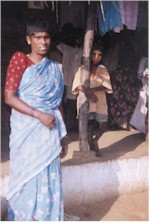 She was lured by her in-laws to a remote riverside, forced into the water head down and tonsured. In view of the entire clan of elders, women and children, Pushpa was stripped naked by her parents-in-law and made to walk to the temple where her sisters-in-law branded her tongue with burning embers. Her crime: Offering a glass of water to a Dalit. Her punishment: Living a life haunted by humiliation. Her quest: Punishment of an entire family. A report from the Chandiranallur where the gruesome incident took place in full public view
I was taken forcibly to the river. There, my in-laws dragged me into neck deep water, shoved my head in and then shaved my pate. My screams were muted by severe beatings with a water jug. They yanked off my saree and blouse and made me walk out of the river nude."
The entire family had been specially invited for this "purification" of Pushpa - from her four-year-old son to her 80-year-old great-grandfather-in-law to her mother-in-law and all the other women and men of a household of 30 persons. All this humiliation for a 'grave folly' - offering a glass of water to Dalit guest.
Recuperating at her father's modest home, today Pushpa is just a faint shadow of her former self. Tending to the only two goats that her parents possess, Pushpa is abnormally normal. She recounts the incident calmly, she seldom bats an eyelid and her face has the serene expression of death. What happened to her on February 11 has put a cork on her emotions, her reactions to everyday life.
The incident took place in drought-prone Chandiranallur, a village 27 km from Dharmapuri in northern Tamil Nadu. The hamlet, with around 100 houses, has a predominant component of agricultural labourers. Palanisamy Gounder's family is one the very few Vanniyar families as a majority of residents belong to the Telugu Chettiar community.
Pushpa was married into a family of five sons seven years ago and was hated by her in-laws for bringing insufficient dowry. Her parents could arrange for only three sovereigns of gold and one sovereign was pending.
But the real problem which landed Pushpa on the Thoppayar riverbed, head tonsured, naked and smarting with shocked humiliation was her 'brazen' act of offering a glass of water to a man who is a dalit.
Pushpa had worked in Madhava Marbles factory for some months. The supervisor, Rajamanickam, came to Chandiranallur on some work and stopped by at Pushpa's house in search of her husband for offering him work. Pushpa welcomed him into the house and gave him a glass of water. There started the misery of her life.
The entire Palanisamy Gounder clan was furious over the misdeed of their daughter-in-law. How could she sidestep the caste lakshmanrekha and give water to someone belonging to the lower caste Dhobi community, was the outraged refrain in the family, a family which was, in any case, gunning for Pushpa, a family which was drooling for easy money and gold, a family out to fix Pushpa any which way. Thus started the masterplan to teach Pushpa a lesson she would never forget. First, the minor incident of offering water to an ex-employer was made out to be a severe crime of 'crossing the caste'. To lend this objection legitimacy, Pushpa was accused of having an illicit affair with Rajamanickam. And then to give it a seal of irrefutable divinity, Pushpa's co-sisters, Muthayi and Vidya were possessed by their community goddess "Pachiyayi" who accused Pushpa of destroying the purity of the Vanniyar caste.
There is a widespread belief in Tamil Nadu that goddesses come on to the bodies of devout women and talk to the masses through them. As a goddess can only speak the truth, Pushpa was damned with unanimous consent. Her in-laws threw her out of the house for having an affair she had not thought of even in her wildest dreams. She pleaded her innocence with all her might, but no one saw sense, not even her husband.
Rajamanickam, who was by now the village's latest rogue, preferred to slip into oblivion. He refused to talk but did say that his name had been "unnecessarily dragged into a controversy for no deed of his." For a mere glass of water, the supervisor has become the butt of allegations and jokes in the village.
Pushpa, meanwhile, spent a month in her paternal home. As the matter seemingly died down, she approached her husband and managed to convince him to take her back. She did not want to be a burden on Pachiappan Gounder, her father who lives in abject poverty. Her husband even agreed to take up a separate house and started looking for employment. This enraged Pushpa's mother-in-law, Chinnaponnu who vowed to bring her "shameless daughter-in-law" to her knees.
A village priest was consulted and a devious plan hatched.
The family sweet-talked Pushpa into returning to her in-laws' house and arranged for a trip to their community deity Pachiyayi and Muniappan. Pushpa was opposed to the trip but they forced her to come. The entire family with 30 relatives set off in a tractor-trailer to the Thoppayar river dam.
"I was not willing to go as I was afraid of these people. They forcibly put me on the vehicle. Once we reached there, they made a makeshift temple with stones. They sacrificed a goat to the goddess, cooked and ate it up. They kept my husband and me separately. They did not give us any food. Then everyone started bathing. Finally, my husband and I were asked to take a dip. As we were coming out of the river after the dip, my father-in-law asked me to stay back. They all came into the river and held me. They called the barber and started shaving my head. I screamed and tried to escape. My father-in-law hit me on the head with a jug thrice and everybody held me tightly while my head was shaven," Pushpa recounts her humiliating tryst with a family outing.
Tears flow unheeded as she adds: "My husband stood there, a mute spectator to all this tyranny. There were at least 10 men and women around me and 20 more watching from the shore. My father-in-law asked me to strip. When I protested, my mother-in-law yanked off my saree and tore off my blouse. I cried for help but nobody came. My cries were unheard by the gods whom I worshipped every day. They stripped me totally and made me come out of the river. I was given a yellow saree on the bank." That was not the end of Pushpa's ordeal. The goddess again chose to come on Muthayi and Vidya who said that Pushpa must be purified with fire. Muthayi and Vidya branded Pushpa thrice on her tongue with burning embers.
"The habit of cleansing their women who've had relationships with other caste men by burning them on their tongue with aamanakku, an oilseed, has been a ritual in the Arasaradi Vanniyar community over ages. But to see it happening today is disturbing," says Nanneeradigal, a local elder with knowledge of Vanniyar customs.
Pushpa was kept in the verandah of the house for three days without food. She was taken to the Mariamman temple where she was sighted by Parvathi, president of Kalaimagal Women's Forum.
Parvathi heads the micro-credit Self Help Group (SHG) Forum run by the Tamil Nadu Government at Thoppur, a nearby town, and had gone to Chandiranallur to form an SHG there. On seeing Pushpa's pathetic condition, Parvathi enquired about her from the locals. No answers were forthcoming. But when she returned to her house in Thoppur, Pushpa's father Pachiyappan sought her help. He wanted justice for his daughter.
Parvathi met Pushpa who had been brought to her parental home by her father. A detailed complaint was written out and submitted to gram sevika Nek Parveen. An FIR was filed by the all-women police station in Dharmapuri against Pushpa's in-laws. Four were arrested. but soon released on conditional bail. The police say that a chargesheet would be filed soon. They have been framed under Sections 147 and 148 (forceful detention), 323 (causing injuries), 498-A (kidnapping), 354 (causing insult) and Section 4 of the Prevention of Dowry Act. "They have every chance of getting a seven-year imprisonment," claims inspector Vijayalakshmi.
"Poverty and unemployment are acute in this district. So most jobless men turn into drunkards and start beating their wives," says Vijayalakshmi, adding that in her tenure of five years Pushpa's is the first case where a ritual has been cited as legilimate reason for torture.
Pushpa feels that lack of education is her bane. "We have remained illiterate idiots. That's why everybody tramples over us," she says.
Today, Pushpa lives in penury in a dingy thatched hut with her parents. Her daily routine is to fetch water from the village well and look after the two goats her family possesses. She sports a veneer of calmness which cracks at the very mention of the incident.
Pushpa's husband Shanmugam is missing since the day the police went into the village to arrest his family members. Ironically, he does not figure in the list of accused. Villagers say he is a dumbhead, a fact corroborated by an angry Pushpa. She has not seen Shanmugam since the day she was brought to her father's home.
Pushpa's in-laws are unrepentant. Her father-in-law Palanisamy Gounder said, "It is our community ritual. So we did it." asked whether this had been done with his other daughters-in-law too, he closed the door angrily. As one walks away from the house, Kadiresan, Palanisamy's small grandson, says it all: "whatever has happened was to correct the wrong auntie has done," he says innocently. He was there to witness his "auntie" being disrobed, beaten and branded. So were his shell-shocked cousins, the two sons of Pushpa. Aged six and four, they are yet to emerge from the trauma of the gruesome treatment meted out to their mother. Both are studying in the anganwadi school. the elder son Raja says he can not forget the sight of his mother's head being shaven.
Pushpa, meanwhile, has appealed to the State government to grant her a job so that she can provide for her sons. Her quest for justice is unsatiated. She repeatedly says: "they should be punished."
Fuelled by the courage given by the women's forum, Pushpa says, "I will not go back to that marriage. I will not succumb to insults anymore."
That's quite a revolution in the remote village of Melpoorikul where women are an extension of cattle and are treated accordingly.
As for Pushpa, her hair may have started growing back on her but her dignity will take a lifetime to return.