Dalits' advocate
Personality: Martin Macwan is going to Capitol Hill in glory
http://www.the-week.com/20nov05/life2.htm Anosh Malekar
Martin Macwan escaped death on January 25, 1986. Feeling feverish, he had returned home early from Golana, a Gujarati village where he and a group of people were fighting for the Dalits' rights. The feudal Darbars struck when he was 40 km away in Nadiad town and shot four of his friends.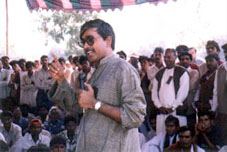 A voice against indignities: Martin Macwan;
Rushing back, Martin wept inconsolably. "Your death will not go in vain," he swore with a lifeless friend in his arms. Martin was 26 then. The next few years he pored over every legal text available and ensured that the 14 killers were sentenced to life imprisonment. In 1989 the angry young man launched the Navsarjan Trust to carry on his crusade.
On November 21, he will be at Capitol Hill, Washington D.C., to receive the Robert F. Kennedy Human Rights Award. Instituted by the RFK Memorial Center for Human Rights, the award is given annually to those who, at great personal risk, stand up to oppression in the non-violent pursuit of respect for human rights.
Accompanying Martin will be his 66-year-old mother, Regina, a former tobacco worker, who taught him the most important lesson in life: "Never allow bitterness to overcome you. That will take you nowhere!" It explains the ever-smiling demeanour of the man who, with 200 dedicated activists, took Navsarjan to 2,000 Gujarat villages.
Regina had not even imagined that Martin would champion Dalit rights; she would have been content if he could make enough money to repay the debts he inherited from his father. Martin worked alongside his mother and grandmother as a farm hand and taught at a night school while he was still in school. A loan scholarship helped him get into St. Xavier's College, Ahmedabad. After graduating in psychology, he passed LL.B. and, in 1983 joined the Behavioural Science Centre, St. Xavier's Society working among Pak refugees in Banaskantha district and tribal children of south Gujarat. But Martin and a few like-minded friends wanted to do more than just social service.
They chose Golana for their mission of love: it was here that Martin first experienced the cruelty of caste bondage. "It made me realise what caste is and what happens when you challenge it!"
Eight years after the killing of his friends, Martin had another shock: he saw scavengers in Surendranagar district carrying night soil on the head. "Mahatma Gandhi called for an end to the practice a century ago. But there is a notion to 'make it a noble occupation'. But which other community will apply for the job?" he asks. Navsarjan fought in court to abolish manual scavenging and it continues the effort to rehabilitate the community. How to educate the scavengers' children is a question haunting Martin.
"Bhangi, door bes [scavenger, stay off]" is the common refrain even today. He recalls how a scavenger's child, Sanjay Dangia, 9, was blinded in Dhandhuka taluka two years ago for touching the pan box of a panwala, thus 'defiling' it. Martin is still fighting the case and is desperately hoping to find a specialist who will work a miracle to save the boy's eye.
Another case relates to sarpanch Shakriben Senma and her husband, Pashabhai of Dhediya-Vansajda village. She was suspended in September last year and he was assaulted by rivals from the Rabari Desai community a month later. He is lucky to be alive today. Navsarjan got Shakriben reinstated as sarpanch but Pashabhai's case for compensation is still pending.
Repression seems to be socially ingrained. "A Darbar's son learns to walk with his head held high while a Dalit boy is taught to gaze down," says Martin, though he does not consider Dalits weak. "The oppressed are in a unique position to liberate the oppressed and the oppressor. To me Dalit is not a caste, but a moral position. They are people who believe in the ideology of freedom from oppression. One who respects all humans as equal is a Dalit."
By the same token, he considers the high castes backward: neither do they respect human beings nor is their understanding rational or scientific. Claiming that 90 per cent of dowry deaths in Gujarat happen in middle and upper middle class families, he notes that those who violate human rights can only be described as backward."
Martin's activities are no longer confined to Gujarat. Besides being the convener of the National Campaign on Dalit Human Rights, he is part of the International Dalit Human Rights Network and has toured the developed world to lobby for the inclusion of caste-based discrimination on the agenda of the forthcoming UN world conference against racism, racial discrimination, xenophobia and related intolerance. The discrimination affects 160 million people in India and 240 million in south Asia.
The RFK award couldn't have come at a better time. Besides a $30,000 cash prize, it carries a commitment from the RFK Memorial Center to work with the award winner. For Martin, 41, it is another occasion to reaffirm the vow he took on that fateful day 14 years ago in Golana.