Landlords exploit the drought-hit Dalit women
SILENCE OF THE LAMBS
Anosh Malekar/Patan
It was pitch darkness. She was riding pillion with a government contractor, when the scooter skidded into a roadside ditch at Patan in north Gujarat. The man escaped with minor injuries but the woman suffered a fracture on her right forearm. Her medical bill came to Rs 7,000 and she lost a month's wages. But the Dalit woman, wife of a daily wage-earner, did not make use of the Mediclaim membership that Navsarjan, an NGO from Ahmedabad, had got her. A landlord paid the bills.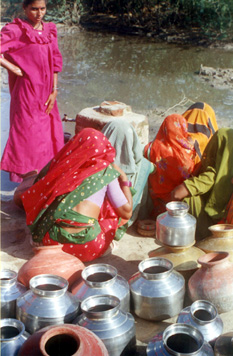 For the Dalit women, the exploitation begins at the water taps (left). They are forced to take brackish water and have to beg the landlords for a few pitchers of drinking water.
Drought is driving Dalit women into the arms of landlords and contractors. As most of their men have migrated in search of a livelihood or been forced into bonded labour, the Dalit women fall back on Thakurs, Chaudhary-Patels and Rabari-Desais in these trying times.
At Nani-Chandur in Patan, Khemiben Vankar is jittery speaking to a journalist for the first time. "There is no sexual abuse," says the mother of six. But a little prodding and she opens up, "The Thakurs are haiwans (lechers). You never know when they will pounce on you! But the victim is invariably silenced by a compromise."
Such admissions by Khemibens across the rural hinterlands of Gujarat are reason enough for Navsarjan to take up the issue. Its activists covered half a dozen villages in Patan on May 26 to take stock of the situation. They are not sure whether the men would cooperate with them to launch a crusade against the exploitation of their women during droughts.
But the fact remains: the Dalit woman from Gujarat is the hardest hit by the present drought. Behind her colourful bandhni dupatta, her face conceals more than it reveals. Largely uneducated and ignored even by her own men folk, she puts up with much more than the daily trudge for water. "I know of at least 40 rape incidents during the past five years in this vicinity," says Veerabhai Parmar, a Dalit of Harij taluka panchayat. "But first information reports (FIRs) were registered only in two or three cases. The atrocities against our women are always physical and vulgar. Do not expect them to come out in the open!"
In Nani-Chander, a small village of 5,000 people, the police have opened an outpost. But they deny reports of rape and insist that the cases are mostly of drunken behaviour and a few of molestation.
Some young men like Nareshbhai Rathod, 33, are left in the Dalit locality of 300 families. "More than 200 men have left in search of work to various urban centres in Gujarat, and even to Delhi and Bangalore. Only women, children and elders live here," he says. But he is paying a price for staying back with his family: he is without any earnings and owes Rs 30,000 to the Thakurs. His five bighas of land is under mortgage.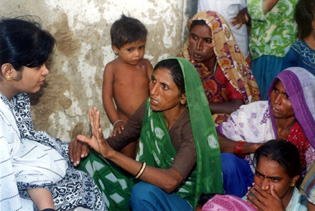 The women (above, Jethiben talking to activist Manjulaben) say that even if the landlords harass them, they will not protest as they owe the men money.
For the Dalit women, the exploitation starts at the water taps. In Taranagar, there are three taps supplying potable water but the Dalits are forced to take brackish water from another one. "The Rabari-Desais will allow us to fill a few pitchers only if a young woman goes begging to them," says Paniben, 65.
Jethiben in Ekalwa village says that one cannot bathe in peace because of ogling eyes. "We have no bathrooms. The four charpoys covered by torn saris hardly provide any privacy from their prying eyes." But none of the women from these Dalit houses has filed a complaint. "Yes, they harass us. But we owe them money! Even if they beat us up, we will not speak a word against them."
And when Jethiben begins to open up to Navsarjan's Manjulaben Pradeep, landlords, Visabhai and Bhavabhai Chaudhary-Patel, make a sudden appearance. They want to know what exactly is happening in the locality. Manjulaben's requests to them to leave the place are spurned; they stay put, staring at Jethiben right in the eye. Jethiben stops speaking.
Manjulaben confronts them and they leave showering expletives. "These people [the women] enjoy our patronage," they say. "They are uneducated and without any support. Nothing is done by force. There are no economic compulsions. We are landholders and require their services to cultivate land and herd cattle."
The women are silenced and the few Dalit men, who are there, also do not utter a word in protest. "We are bonded to them," mutters one of them.