'Dr Ambedkar is more relevant than Martin Luther King'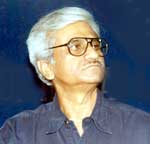 Filmmaker Jabbar Patel: courting fame

Nine years and eight-and-a-half crore rupees is what's
gone into Jabbar Patel's much talked about film,
Dr Babasaheb Ambedkar. Sponsored by the National Film Development Corporation and the Ministry of Social Justice, the film was released in Maharashtra last month after a long and controversial gestation period. The bio-picture is now expected to hit the Delhi, UP and Bihar screens within the next couple of weeks. So far, the film has received mixed reactions, with critics nitpicking Patel's magnum opus for being boring and too long. On the plus side, however, performances by the South Indian star, Mamooty and the late Mohan Gokhale have been hailed. Ashok Mehta's cinematography, too, has also been applauded. As for the 59-year-old filmmaker, it's been a trying period and one, which he describes as "having left me bereft".

Charu Soni talks to Jabbar Patel about the film
and what all went into its making.


It's been nearly a month since your film was released in Mumbai and Pune, what has the response to the film been like?
Yes, the film has also been released in Gujarat and the Vidharbha region, and we are waiting for a tax exemption order from Delhi. It should be released in the Capital soon. After that it will be released in 36 districts of UP, then Bihar and Calcutta. In the South, we will release it after a month or two. The reaction has been wonderful. Just yesterday, Star TV said that the film is the second most watched film here. The box office returns have also been very good - we are getting an average of 70 per cent ticket sales.


Mamooty as Balasaheb in Patel's film

"I think Ambedkar has
a relevance to India and the rest of the world. He surpassed religion, caste, creed and sects."

Do you plan to take the film outside the country as well? I believe the film has a Hindi, English and Marathi version. Is the dubbing for these complete?
Yes, of course, I will be taking it to Europe, USA, South-East Asia and Australia. So far, the film has been released in Hindi, our matra bhasha, and in English. The dubbed versions will be released later.

In all the film took nine years to make - looking back what were the
toughest moments during those long years?
The actual shooting and post-production took only two years but yes, it took time to research on the subject. See, the toughest bit during that time was to trace the valid documents, the actual buildings of the time. It was difficult. In India we do not preserve anything - the old structures are not kept at all - so it is was very difficult to find what I was looking for, but we managed by building sets and renovating…

Renovating?
Take for instance our shooting in London, or at Columbia University where I had to mask one-third of the university to give that authentic period feel. Things like electric poles and the street lights had to be masked…

The process of research, how did you wade through the material and what did you select and leave out and why? Every film is a personal interpretation - what provoked you to film the movie the way you did?
Yes, that's true. Well, I concentrated on his childhood which was painful…very painful, the struggle and the agitation before finally coming to the Constitution.
His low caste status and the struggle define the man and his life and passions.

What impact did the making of the film leave on you?
Personally it affected me a lot. It taught me what equality, humanity and human rights mean. I think Ambedkar has a relevance to India and the rest of the world. He surpassed religion, caste, creed and sects.

Ambedkar is Jabbar's latest and most controversial film

Once you picked up Mamooty for the role of Ambedkar - were there any stumbling blocks? Did the character, for instance, evolve exactly as you thought it would have?
No, there were no stumbling blocks. Mamooty was smooth. He intellectually approached the character. He's done it so well that it is actually difficult to separate the actor from the character. There were no special brainstorming sessions. But Mamooty changed for the role - he cut his hair, his moustache, added dentures…

Was it difficult to work with a popular star like Mamooty?
Well, he depended a lot on the written script and he studied extra for the special scenes, but he also improvised when needed - particularly in scenes where emotional and intellectual aspects of Ambedkar had to be portrayed.

There have been some conflicting reactions over your portrayal of Gandhi in the film. Your comment?
I think people who have not seen the film will say that. You have to see the film! Both Gandhi and Ambedkar were great men but they had a different point of view: of looking at untouchability. On another level the great men were the same but because they did differ on various issues there was bound to be confrontation. Nehru and Gandhi had number of confrontations too.

How true to history is the film?
Very true! The fact that there has been no untoward reaction to the film is a proof of that. Because people know that it is an honest film. It's not fiction. But it is still very dramatic.

Why did you think of making the film on Ambedkar? Why him in particular?
I had first made a documentary on him in 1989. But a documentary has its limits whereas a feature film can reach the masses and you can tell a story. I felt the subject was relevant. I think Dr B R Ambedkar is more relevant than Martin Luther King.

What are your views of Arun Shourie's interpretation of Dr Ambedkar's role in Indian polity?
I thought there was a lot of distortion. The book was not helpful in my research at all. It's his interpretation. It's a distortion of history.

http://www.tehelka.com/aspsite/rightstory.asp?id1=showbiz&id2=features&id3=S TORIES&id4=20000623397&fname=ane011101jabbar.htm