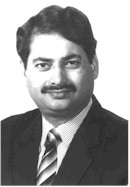 Brief Profile of
Tej Singh,
Commander in Chief, BSS
Born as a twin in the morning of 7th November, 1953 in a dalit-kisan family in the village Bhadwas of Etah district of Uttar Pradesh. After a few hours of my birth, the other child who was born with me, has passed away leaving me alone to struggle for the groaning humanities. On completion of my primary education at my native village and secondary education at the nearby village, I did my graduation from D.S. College, Aligarh.
Having served the government of India through the Telecommunication Department and State Bank of India , I am , at present working as Superintendent of Customs and Central Excise and posted in New Delhi. On being inspired by my father who used to propagate the struggle and ideas of Baba Sahib Dr. B.R. Ambedkar from village to village on bicycle wearing the blue ordinary cap with Jai Bheem inscribed on it during Republican Party of India (R.P.I) days. It has made me curious in my childhood to know as to why the people belonging to the lower castes are being hated and treated like animal ? This was enough to agitate my little mind which ultimately made me a rebellion. My father used to pacify asking me to concentrate on my studies and try to make me understand, the Ambedkar Mission. Later I came to know that I am heavily indebted of the struggle and sacrifices of the Dr. B.R. Ambedkar without which I would have been a mere scavenger or a simple laborer. So I have decided to pay up the debts on me at earliest possible.
Since I had to wage a war against the oppression and the oppressors, I came in touch with Kanshi Ram ji who at that time appeared to be up against Brahminism, was on his way to prepare the society for the final onslaught. I have decided to lend him my whole hearted support. I had been with him for over a decade and virtually put everything of mine behind him to achieve the pious mission of our Messiah and over all welfare of the society , I come from . But the day, he along with Maya Memsab, have joined the hands with Bhartiya Janata Party (B.J.P), there was no opinion left before me but to leave them immediately and I do so.
The incarnation of Madam Mayawati to the coveted throne of the Chief Minister of Uttar Pradesh on June 3rd ,1995 with visual support of Bhartiya Janata Party (B.J.P) and invisible support of Indian National Congress whom Kanshi Ram ji used describe Nagnath And Saapnath stunned me . On the other hand ignorant and innocent Bahujan Samaj especially the Dalits and particularly the Jatavs or the Chamars not only from Uttar Pradesh but from all across its boundaries in the whole of the country, had been celebrating it like anything. But their joy was very short lived and very soon they too realized their folly that their so called Messiahs have cheated them. I was of the opinion also that the intension of these two was neither for doing anything good for their society nor it was possible for them to do so while remaining or hobnobbing with the age old enemies of dalits-adivasis , backwards, Muslims, Christians etc. At this juncture, I, too, was in dilemma as to what to do and what not?
At the time of the presidential election in 1992 when the candidature of late Prof. G.G. Swell, a tribal from North-east, was co-sponsored by National Front and B.J.P., Kanshi Ram ji termed this alliance as an "unholy-alliance" of BJP-National Front and therefore felt concerned and worried about the joint sponsorship of the presidential candidate by these two organizations and warned the Bahujan Samaj to be vigilant against such unholy alliances. Then, why he aligned himself with BJP? And why and how the alliance of BSP-BJP (1995 and again in 1997) has become an holy-alliance? The unholy alliance of Bahujan Samaj Party (BSP) and Bhartiya Janta Party (BJP) was un-believable as it was detrimental to the interests of the party and the society as well and that too at the cost of Dr. B.R. Ambedkar Mission, had disturbed me a lot. The movement of Baba Sahib Dr. Ambedkar which was revived and build up by none else than Mr. Kanshi Ram himself with the help and support of the deprived millions, was at stake! After four/five days in anxiety, one day in the early morning while I was in half sleep, it appeared to me as if some body was asking me to get up and take up the mission. I woke up a fresh and in pleasant mood. I immediately called my wife and my four kids and told them, "I have spent almost about a half of my life taking every care for them, but now heavy responsibilities of Ambedkar-Mission and the welfare of my society have fallen on my shoulders, being dearest and nearest to me in this world, you are supposed to co-operate." " If you are not able to support me in my 'Mission', please do not create hurdles in my way, I am determined to become a fakir in the name of Baba Sahib Ambedkar." At this my eldest son Rahul and my wife Kailashi were in tears and assured me of their full co-operation in my endeavor and do not bother even for their stomach. This had considerably enhanced my confidence.
Finally, with due consultations with other like minded missionaries who too was very sad about this 'about turn' of the duo but have no courage to come forward to do something, I have decided to deal with the situation firmly the chronic diseases of fooling our innocent society. That too by the so called of ours who hardly bother for their society and reluctant to take on the Hindu communal forces, the evil of everything wrong done to our people .We have launched BSS (Bahujan Swayamsewak Sangathan), a non- political and non-religious organization for the purpose, on 10th September, 1995 from Ambedkar Foundation, New Delhi.
In a short span of about of about five years, we have been able to take it up to the people by a way of Cadre Camps, Corners Meetings, Seminars, rallies, long marches, medical aid and advice camp etc. In the different parts of the north India to educate the people about the mischief done to them it is also agitated the mind of the people to prepare them for the final onslaught against their old age tormentors From the 20th March 19997 to 14th April ,1997 , we have conducted a long march from Delhi to Mhow , the birth place of Baba Sahib Dr. B.R. Ambedkar to make a mark of respect to the greatest leader of the crores of dalits adivasis and the backwards. Secondly it was very essential to me to test my people who are supposed to share and shoulder responsibilities with me in my endeavor. A strong contingent of BSS volunteers in their uniform (Blue half pant, and white T-shirt etc.) reached the destination in 26 days.
Ever since the demolition of our Babri Masjid at Ayodhya, Faizabad (U.P), no solid resistance was visible from our corner of our society , the dalits-muslims engaged in taking a political mileage out of our miseries. The Muslim leaders whether religious or political could not able to do anything concentrate in this regards . on the other hand, the Hindu communal Forces had been raising it's ugly head showing their determination to construct Ram-temple at the site of our Babri-mosque. It was enough for us, if we are sincere towards our brothers, we must take up their cause as if it is our own. And we did it. Having accepted challenge from the Hindu Communal forces like Vishwa Hindu Parishad (VHP), Bajrang Dal , Shiv Sena etc., we have to resort to our crusade against them. In order to thwart away any attempt of these communal forces to build up any Hindu-Temple at the site of the Babri Masjid at Ayodhya (Faizabad) in Uttar Pradesh , we have organized "Ayodhya Kooch" (March to Ayodhya) on bicycles in their uniform (Blue nickers and white T-Shirts) proceed to their pilgrimage to Ayodhya, but the BJP government of Uttar Pradesh have arrested all our volunteers at Ghaziabad and put us behind the bars. The district administration of Ghaziabad took us to the district jail where we had to resort to hunger strike against our illegal arrest while our pious mission. On 29th November, 1998, we were shifted to central jail Meerut. In Meerut Central Jail, the attitude of it's jailer Mr. B.K. Mishra was callous and in different towards us solely on caste consideration and used abusive language against the arrested volunteers of BSS . He has spoiled the system of food etc. Under the , there was no option left before us to treat Mr. Mishra, the jailer with shoes. This beating of the jailer with shoes has very lightening effect and within one hour of it the whole system in the jail was set in order ! On 6th December ,1998 we were released from the jail. During this course of this movement, over 5200 volunteers of BSS were detained in several parts of Uttar Pradesh .
For the first time in history of state on Red- Alert since the demolition of Babri Masjid in 1992. That too from the 27th of November1998 to 6th Dec.,1998. The treatment of Mr. B.K. Mishra, the jailer of the Central Jail Meerut , with shoes has opened our eyes and has made us understand us importance of "Shoes" as an effective weapon for the social transformation and Economic Emancipation . This is quite effective to deal with Hindu Communal forces and the stooges of prawns there of firmly though they come from the exploited and the oppressed society . We have launched "Rashtriya Juta Brigade" (National Shoe Brigade) an agitation wing of BSS. Rest of my life is dedicated to "Ambedkar-Mission" and the overall welfare of my people which I am trying to achieve/fulfil through BSS.