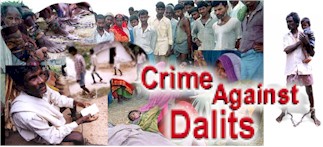 These are JUST SOME of the Crimes committed on Dalits from April 2000 to December 2002, reported in National Daily's. Hundreds of Such crimes go unreported. If you find any such crimes happening in your neighbourhood, please send the details of such crimes to us. dalits@ambedkar.org

Please check this page for updates. Meanwhile THINK what YOU can do to stop this madness.

• Exclusive Report:Five Dalits Lynched in Haryana (06 Nov)
• Dalit elopes with Jat girl, death stalks Haryana village (30 Oct)
• Untouchability, The Dead Cow And The Brahmin (23 Oct)
• A Dalit damned for defying her village (07 Aug)
• Dalit burnt alive, tension brews in Mansura village (29 May)
• Pakistani Dalits protest genocide of Dalits (29 May)
• Dalit hanged for having illicit ties (15 May)
• 6 Dalits shot dead in Bihar (09 May)
• Dalit houses attacked in Salem village (02 May)
• Attack on Dalit youth in Bellary (26 Apr)
• Dalits face wrath of upper castes in UP village (24 Apr)
• Dalit teenager raped in Rajasthan (24 Apr)
- 18-year-old girl raped, murdered (21 Mar)
  - Crime in Chennai (21 Mar)
  - Couple hounded by cops for inter-caste marriage (04 Feb)
 - Students demonstrate against sexual harassment (04 Feb)
  - Dalit woman raped (26 Jan)
  - Caste Discrimination in Hyderabad Central University (15 Jan)
  - Dalit women molested near Davangere (15 Jan)
  - Another youth killed by lover's parents (15 Jan)
  - Koli girl's gang-rape infuriates ministers, MLAs (15 Jan)
  - 3 Dalits Shot Dead (08 Jan)
  - Dumb girl accuses cop of rape (07 Dec)
 - Woman Paraded Naked For Playing Cupid (07 Dec)
  - Alleged rape of Dalit minor (27 Nov)
  - Atrocity on SC girl in Karnataka (27 Nov)
  - Dalit woman beaten to death by excise officials in Kerala (27 Nov)
 - Yet another life sacrificed at the altar of love (27 Nov)
  - Custodial death sparks protest (1 Nov)
  - Landless woman stripped, beaten up (29 Oct)
  - 2 dalit girls raped (29 Oct)
  - Dalit girl raped (11 Oct)
  - SC hostel inmates left in lurch (6 Oct)
  - JNU girl alleges molestation, casteist slur (22 Sept)
  - Goan Dalit denied equality even in death (13 Sept)
  - Dalit student in Delhi University beaten up by upper caste hostel mates (10 Sept)
  - Naked assault Crime: Dalit woman is stripped and paraded for two hours in Karnataka (3 Sep)
  - Discrimination against Dalits in Chhattisgarh (3 Sep)
  - Stripping of Dalit by cop: Panel orders probe (2 Sep)
  - Dalit gang-raped in Kankipadu mandal (31 Aug)
  - Dalit woman gang-raped in Vijayawada (30 Aug)
  - Dalit woman paraded naked in Bellary village (29 Aug)
  - Raped Dalit woman ends life (27 Aug)
  - Three tribals killed (9 August)
  - Caste Hindus terrorise Dalits in MP's Mugalia (8 August)
 - Caste's cruel: lovers hanged in UP (8 August)
  - Dacoits rape 2 tribal women (29 July)
  - Gang-rape of Dalit woman in Rohtak (24 July)
  - TD men attack Dalits for voting for Congress (19 July)
  - Liberty, Equality etc --- but not for Dalits (17 July)
  - Castes and killings in Jehrana and Hasanpur (16 July)
  - Bihar panchayats deny Constitutional reservations (13 July)
  - Landlord urinated in my mouth, alleges Dalit (11 July)
  - Dalit hacked, ban order in Bellary village (6 July)
  - Harassed Dalit woman fights for justice (3 July)
 - Dalit family spends year in hut looking for justice (3 July)
  - Stripping of women: DM orders probe (1 July)
  - Caste row in Indian school (30 Jun)
  - Dalits banished for drawing water from village well (29 Jun)
  - Six people massacred in Bihar (29 Jun)
  - Dalit leader blames Jehrana carnage on casteism (28 Jun)
  - Four Dalits lynched in Bhojpur (26 Jun)
  - Discrimination in promotions alleged (26 Jun)
  - Punish the guilty (22 Jun)
  - Sexual assault on Dalit woman (15 Jun)
  - 5 dalits shot dead in UP (14 Jun)
  - Dalit woman gang raped (14 Jun)
  - Dalits don't redraw the village map here, those who do get killed (12 Jun)
  - Untouchability faces no threat here (11 Jun)
  - Dalit killed for entering temple (10 Jun)
  - Villagers still terrified (25 May)
  - Police atrocities (23 May)
  - Dalits barred from temple (21 May)
  - No justice for tortured labourer (21 May)
  - Well divides Dalits and upper castes (21 May)
  - Rape victim dies due to doctors' negligence (17 May)
  - 'Atrocities on SC/STs on the rise' (17 May)
  - Officials accused of harassing Dalits (12 May)
  - Tribal dies due to starvartion (4 May)
  - Leaders allege harassment of tribals (4 May)
  - Minor Dalit girl raped at Kallipalli village (1 May)
  - Inter-caste marriage claims girl (26 Apr)
  - Caste-based segregation at JNTU hostels: SFI (26 Apr)
  - Atrocities against Dalits surface in village near Bhopal (26 Apr)
  - Clashes as Dalits stopped at tap (23 Apr)
  - Voting rights still elude most Dalits (23 Apr)
  - Stripped nude for offering water (19 Apr)
- Untouchability in AP (18 Apr)
- Denial in death (16 Apr)
- 3 tribals killed in police firing (7 Apr)
- `Untouchable' fined, beaten for entering Orissa village temple (7 Apr)
- Old Dalit couple attacked at home (2 Apr)
- Vigil for Kamballapalli (14 Mar)

- Custodial Torture of Dalit Youths (14 Mar)
- Dalits houses torched, 15 arrested (7 Mar)
- Lashes greet caste student (5 Mar)
- Starving the poor (27 Feb)
- Dalit Girl Victimised at Cochin University (19 Feb)
- Discriminating the distressed (19 Feb)
- Youth dies in custody,constable booked
- Quake can't shake caste system
- Ten Dalit Houses Set On Fire
- Three Dalits hurt in attack
- Dalit community alleges social boycott by villagers
- 14-year-old Dalit girl raped
- Booked for raping Dalit
- Dalit beaten up for seeking money back
- 'Dalits denied entry in many temples'
- 150 dalit families rendered landless
- Four Dalits gunned down in Bihar
  - 3 Orissa tribals killed in police firing
- SC woman raped
- Alleged attacks on Dalits
- Court pulls up police for custodial torture
- IITs: Doing Manu Proud
- Discrimination against Koluru Dalits alleged - Dalit commits suicide, Shinor tense
- Assertion, Co-option and Marginalization of Dalits
- An instance of untouchablility in Channagiri taluk
- Scavengers: Mumbai's Neglected Workers
- Gang rape of dalit housewife flayed
- Witches exorcised with Bajrang Dal help
- 15-year-old Dalit girl raped
- Caste system main barrier to India's IT superpower ambitions?
- Dalit samiti condemns Neelur incident
- Acid attack on Dalit
- One held for raping Dalit girl
- Tribal schoolgirls sexually assaulted
- 'Police atrocities' on tribals condemned
- Bihari girls sold to work in Punjab
- Boy stripped, assaulted in Orissa village
- Dalit 'killed' in lock-up at Kurnool
- Dalit beaten up for stoning dog
- Solidarity With Sardar Buta Singh
- Three dalits killed in Bihar
- Dalit students humiliated
- Orissa tribal group gheraos police station after attack
- Sexploitation of an alarming nature
- Dalit students forced out of classrooms
- Deep prejudice
- Four dalits burnt alive in Rajasthan
- Attack on Dalits: action sought against culprits
- Atrocity against magistrate opens can of worms
- RPI activist shot dead in Mulund
- Dalit village still deserted
- Dalit branded witches, one dies after `torture'
- The bells of Guruvayoor
- Vayalar Ravi to move court on temple issue
- Dalit tortured by cops for three days
- SC, STs face higher risk of poverty due to caste
- AIIMS chief biased against SC/STs
- Dalit MLA's outrage over veedu remark
- Minister accused of raping tribal girl
- Dalits decry bid to hush up death casem
- 'Discrimination' made IAS officer quit
- Death does not come as the end
- Bihar's landless landlords die watching others..
- 'Witch' paraded naked in Bihar
- Dalit's death after police torture alleged


- 'Govt apathy' towards women leads to suicide
- Atrocities against Dalits high in Punjab
- ABVP attack Dalit prof at varsity
Aurangabad, Aug 15: The 15-day-long lull of student activism at Dr Babasaheb Ambedkar Marathwada University ended on Monday when students belonging to the Akhil Bharatiya Vidyarthi Parishad barged into the cabin of professor of social sciences, Dr B H Kalyankar, a renowned intellectual from the Maratha community and blackened his face, `to teach him a lesson for attacking Hindusim.'
- Dalit judge moves SC over courtroom 'purification'
NEW DELHI: A Scheduled Caste judge in Allahabad has appealed in the Supreme Court against his compulsory retirement in the aftermath of an incident in which his courtroom was washed with `Ganga jal' by his `upper' caste successor.
- Dalit boy beaten to death for plucking flowers
BAREILLY: A teenaged Dalit boy was allegedly beaten to death by the nagar panchayat President of Fateh Ganj for plucking some flowers from his garden
- Girl tortured, burnt to death in UP
Lucknow: History probably repeated itself when a strikingly similar incident, as Phoolan Devi's physical torture and humiliation two decades ago, was reported from Azamgarh district in Eastern Uttar Pradesh.
- Caste groups clash; cops use force
JALANDHAR, July 30 (UNI) -The demand for the release of a suspect in a theft case from police custody snowballed into an inter-caste tension at a city police station last night when two warring caste groups exchanged brickbats and the police used force to quell the clash.
- Five Dalits hacked to death
HYDERABAD: In a gruesome incident, five Dalits were hacked to death at Surampalli village under Tekmal police limits of Medak district, some 100 km from here, on Thursday night
- Communal clash sparks tension
AYAMKONDAN, JULY 20. Tension prevailed in Meensuriti village near Jayamkondan in Perambalur district late last night following a communal clash between Vanniyars and Dalits of the village.
- Tribal family stripped for shooing away hens
BHUBANESWAR: Four members of a tribal family were stripped, beaten up and made to parade naked before their fellow villagers in Chhatam, in Orissa's tribal-dominated Sundergarh district.
- Bihar Minister sacked
EMBARRASSED BY the charges of torture of two Dalits by Minister of State for Cooperatives Lalit Yadav, Chief Minister Rabri Devi on Monday promptly sacked him.
- 32 kids rescued from bonded labour
MUMBAI: Following a raid by police officials along with Samarthan, a Mumbai-based NGO, 32 children were rescued from Walope village near Chiplun in Ratnagiri district.
- Life in Chains
Bonded Labour: Tortured and terrorised, five men suffered in fetters in a stone quarry for two years
- A cry for justice
At the National Public Hearing on Dalit Human Rights in Chennai, the country's most oppressed section narrates its tales of woe.
- Four-year-old girl beheaded for sacrifice
A 40-YEAR-old man allegedly 'sacrificed' a four-year-old girl on Monday in Miragpur village, 30 km from Roorke. Only the head of the victim has been recovered so far
- Dalit girl hostel for sexual exploitation
PALAKKAD, JULY 2. The shocking revelations of sexual exploitation of some inmates of the Government-run Agali Tribal Girls Hostel in the tribal heartland of Attappady in Palakkad district resulting in a few of them becoming pregnant has rocked Kerala, the most literate State.
- Action to be taken in killing of two Adivasis
he National Commission for Scheduled Castes and Scheduled Tribes has directed the collector and the superintendent of police of Dhar district in Madhya Pradesh to take action against the police officials responsible for killing two Adivasi youths in June.
- Gujarat tribals fear losing grants
IN ITS eagerness to keep an eye on any possible conversions, the Social Welfare Department of the Gujarat Government has made changes in the application form for seeking grants.
- Dalit colony razed in Sonepat
SONEPAT: More than 100 kutcha and pucca houses were razed to the ground by officials of the demolition squad with the help of the police in RK Colony on the GT Road about eight km from here, on Wednesday night.
- Becoming A 'Servant Of God'
June 25 — You can tell the "servants of God" from the other Dalit women outside the Hindu temple in Manvi, a village in northern Karnataka, by their jewelry. They're wearing red beaded necklaces with silver and gold medallions.
- Caste Struggle
June 25 — On paper, the people in the slum on Delhi's Lodi Road don't even exist. The Dalits, or literally "broken people," as members of India's Untouchable castes are now called, don't show up on electoral rolls, ration cards or water bills.
- Brutal Murder of 3 Dalits
M.Puliangudi is a Village situated in Cuddalore District in Tamilnadu. This village has a population of around 3000 in which about 300 people are be Dalits and the remaining population belongs to Vanniyar community. Vanniyars are the landed population.
- Return to an abhorrent past
The shankaracharya of Puri, Nischalanand Saraswati, has said that neo-converts to Hinduism should pray in separate temples. These swastik temples, as they will be called, are to be for the exclusive use of all those who have joined or rejoined the Hindu fold. Those 'lucky' enough to be born Hindus can, of course, continue to pray in the existing temples across India and the globe.
- Low - cost for low caste
SHANKARACHARYA of Govardhan Peeth in Puri Jagatguru Nischalananda Saraswati was in the news for "reconverting" 72 tribal Christians in the same area where Australian missionary Graham Staines and his two minor sons were roasted alive. Presumably, the conversions did not contravene the special laws that exist in Orissa. Nobody should grudge His Grace for his mission as long as he uses persuasion, and not force.
- Charges filed in Kambalapalli Dalit killings
BANGALORE: The Civil Rights Enforcement Cell (CRE) filed the chargesheet last Thursday in the court of Civil Judge, Chintamani, indicting 32 persons, including one Maddi Reddy, as the main accused in the burning of seven dalits in Kambalapalli village in Chintamani taluk of Kolar district in March this year. All the accused are now in judicial custody.
- 15 killed in Bihar caste violence
Fifteen persons were killed in two separate incidents of caste violence in Nawada district of central Bihar last night.
- Two cases of Rape
Woman panch stripped for being raped in MP
NCW to intervene in Biswas rape case, Lalita
- The drumbeats of oppression
In a village in Tamil Nadu's Pudukkottai district, Dalits are subjected to a vicious attack for refusing to subject themselves to rites of social oppression.
- Murder of three Dalits in Cuddalore
The recent murder of three Dalits in Cuddalore district shows that caste oppresion is a living reality in rural Tamil Nadu.
- Dalits and land issues
ON December 25, 1927, Dr. Babasaheb Ambedkar led a historic mahasatyagraha to defy a ban imposed by caste Hindus on Dalits drawing water from public sources. More than 10,000 Dalits participated in it.
- Dalit killed by 4 upper caste persons
Police officials interrogate people witness to the murder of a dalit youth in Amraiwadi area of Ahmedabad.
- Landlords exploit the drought-hit Dalits
Drought is driving Dalit women into the arms of landlords and contractors. As most of their men have migrated in search of a livelihood or been forced into bonded labour, the Dalit women fall back on Thakurs, Chaudhary-Patels and Rabari-Desais in these trying times.
- Dalit woman gang-raped, paraded naked
FARIDKOT: A married, Dalit woman was gang-raped and paraded naked in the village Tharajwala of Muktsar district because of her brother's alleged involvement with a girl of the village.
- DSS activist says he was kidnapped
Dalit Sanghrasha Samiti activist Manjunath Kundar, who was missing for about 15 days and later found near Sakaleshpur, has alleged that his political opponents in connivance with the police, masterminded his ''kidnapping``
- Dalit farm worker killed in caste conflict
MEERUT: A 40-year-old dalit agricultural labourer was tortured and humiliated before being shot dead in front of his wife and others at Kabaraut village, 35 km from Muzaffarnagar, allegedly by some influential persons, on Tuesday evening.
- Nailing evidence-Police cap under a dead man
Uttar Pradesh: The scene at the wheat fields along the national highway in Basai village was gory on May 2 morning. Villagers going for work saw five bodies soaked in blood. Vijay Singh, Jaipal Singh, Satbir Singh and SugreevÑall Dalits of the villageÑwere dead, but another Dalit, Santhosh was still hanging on to life, though his neck had a deep gash. He was rushed to hospital.
- 7 hurt in caste clash near Hoskote
Seven persons were injured and two huts destroyed following clashes between Caste Hindus and Dalits in Hoskote Taluk, the hotbed of political and caste-based conflicts in Bangalore Rural dis-trict, on Tuesday night.
- Dalit killings cause concern in Uttar Pradesh
Two recent incidents involving killing of dalits by members of the upper caste have brought under fire the Bharatiya Janata Party-led coalition government in Uttar Pradesh.
- SI guns down four Dalits in Uttar Pradesh
Angry at his daughter eloping with a Dalit, a police sub-inspector avenged the humiliation by killing four of the latter`s family.
- The carcass collectors of Rann
Ever since animals started dying in the drought, the only way to collect the carcasses and get it surveyed has been through people from this Dalit community.
- Caste off!!
One of the tragedies of our history books is that they do not look at history holistically, but rather as specific events of battles won or lost and so on. In the bargain, we fail to learn our lessons completely, which is perhaps the primary purpose of reading history.
- Water shortage re-ignites caste clashes
AMRELI (Gujarat), APRIL 27. As the mercury soars and water resources dry up, clashes over collecting water in the drought- hit areas of rural Gujarat are becoming common. And with that has returned with a bang the caste consciousness, which was slowly getting blurred.
- Double infliction on Dalits
Drought has failed as a great leveller of the financial status of individuals here, as farmers who take to agricultural or manual labour stand divided. Even in hunger, the Dalits are not equal to the upper castes in the backward Rangareddy district in Telangana.
- Four Dalits gunned down in Bihar
At least 4 Dalits were gunned down, 3 others received serious injuries and more than a dozen houses were burnt by upper castes in Khairahni village under the jurisdiction of Nokha police station in Rohtas district of central Bihar during the wee hours today.
- Deprived of their due
A study highlights the flouting of the norms of reservation for the Scheduled Castes and the Scheduled Tribes in appointments to institutions of higher learning.
- Dalit bridegroom dismounted from mare
Riding a mare in a wedding procession still proves to be a nightmare for many a Dalit bridegrooms in Rajasthan. A Dalit bridegroom was reportedly dismounted from the mare and stones were thrown at the 'baaratis` injuring four of them at Sardada village of Deoli tehsil in Tonk district on Wednesday.
- Untouchables remain victims of persecution
MADRAS, Apr 21: India's dalits, or "untouchables," remain wide-spread victims of persecution, of-ten with state collusion, a two-day public hearing here concluded Thursday, reports AFP.
- Landlords attack dalits, burn houses
CUDDAPAH, APRIL 19. Upper caste landlords have attacked dalits and set ablaze 30 houses belonging to the latter, near Rajupalem in B. Kodur mandal.
-7 Dalits burnt alive in Karnataka caste clash
KOLAR: Seven persons, including three women, were burnt alive and one person was stabbed to death in a major flare-up of caste-related violence at Kambalpally village in Karnataka's Kolar district on Saturday night, police said on Sunday.


Woman Stripped, Killed

20 Dalits injured in mob attack
Priest slaps Dalit, ties him with rope

A temple entangled in clash between castes

Another batch of bonded labourers set free

Caste factor in delivery of justice highlighted

Cry of the oppressed goes unheard

Dalit mother raped for son's 'criminal' affair

Tragic end to inter-caste marriage